This is the story of how Artesia, New Mexico got a priceless mural done by Peter Hurd…how the mural came to be, its removal from a building slated for destruction, the multi-year journey from Houston to Artesia, and how this gigantic yet extremely fragile art piece was inserted into a library which had been built to receive it.  In a state that is known for art and stories about artists, this may be the best yarn yet!
I met with Artesia MainStreet Executive Director Rebecca Prendergast and Elizabeth Stephens, Co-Chair of the Library Building Committee, to get the whole story.  Except for the photo showing the entire mural, the photographs were taken by Elizabeth Stephens.
ARTESIA PUBLIC LIBRARY—This amazing saga starts in Texas way back in 1952.  Prudential Insurance Co. built the 18-story Prudential Tower for its headquarters in downtown Houston.  They commissioned New Mexico artist Peter Hurd to do a large mural that would be consistent with the values of the company.  Hurd titled his piece, "The Future Belongs To Those Who Prepare For It."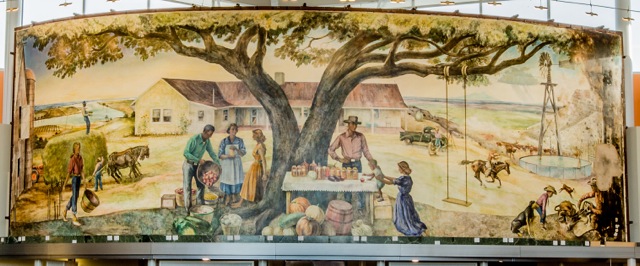 It was a gorgeous scene of farmers and ranching families.  Every group of people in the mural were preparing for the future in some way:  storing hay in a barn, canning fruit, etc.
And it was HUGE.  It was 47 feet long and 14 1⧸2 feet high.  It was painted on plaster on a curved wall that bowed out 7 or 8 feet.  It dominated the lobby of the Prudential Tower.
Well, they sold the building in 1970 to Houston's M.D. Anderson Cancer Center.  Eventually the building no longer fit into their plans either.  So in about 2010 the M.D. Anderson Cancer Center prepared to tear the building down.
There was a bit of an outcry from the public and from preservationists about destroying the building.  M.D. Anderson focused the public's attention on their trying to save the large Peter Hurd mural inside.
But what to do with it?  They tried to give it away, but nobody had the money and expertise to attempt the risky task of removing the mural from the building and transporting it to a new home.  I heard that Texas Tech was interested, but eventually passed on the idea.  Apparently there were no takers after the removal costs were figured in…estimated to be about half a million dollars.  And then one would have to build a new structure for it.  After all, a curved 47 foot by 14 1⧸2 foot fresco on a curved wall with an 8 foot bow to it would take a very specific site.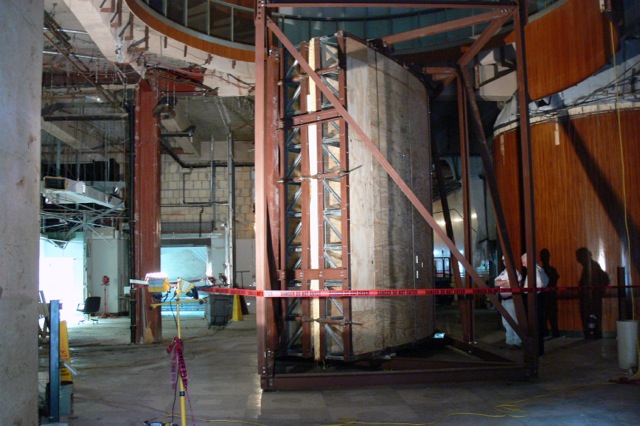 But the Artesia, New Mexico Public Library was just getting ready to start construction of a new library.  "We'll take it!"  they said.  It would have been impossible except that they had a financial angel who was willing to finance the move, namely the Yates family who have been very active in promoting education in Artesia, and especially the library.
Elizabeth Stephens told me it took months of planning and stacks of drawings getting ready for the move.  They went to Houston and Elizabeth took a multitude of photos of the mural.  These photos, it turned out, would come in handy.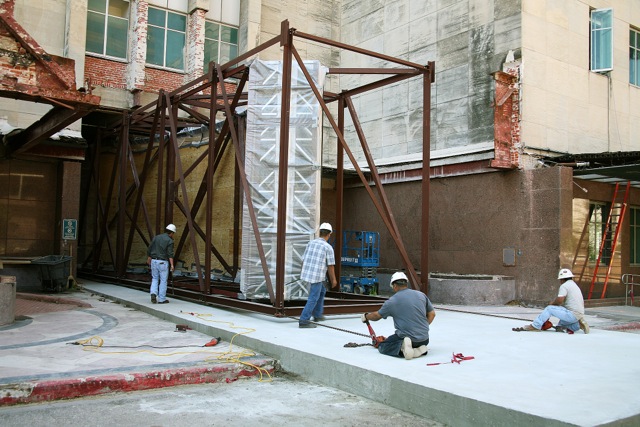 The wall that the mural was painted on was 3⧸4 inch thick plaster.  Peter Hurd had used a technique called fresco-secco.  According to Wikipedia, this is a technique in which "pigments ground in water are mixed with egg yolk or whole egg mixed with water which are applied to plaster that has been moistened (using this temper) to simulate fresh plaster."
The wall in the lobby of the Prudential Tower had always been slated to have a mural on it.  In the planning stages in 1950, Mexican muralist Diego Rivera was considered.  However, his fresco in Rockefeller Center in New York City had been chiseled off the wall in 1934 for being too left-wing politically.  The Prudential Insurance Co. was not looking for that sort of controversy.
So they hired Peter Hurd.  Talk about two opposite ends of the spectrum!  Rivera vs. Hurd.  Both are excellent artists, but still it's something like considering Frank Zappa to play at your daughter's birthday party and then going with Lawrence Welk instead.
The title of Peter Hurd's piece shows how controlled his direction was by Prudential:  "The Future Belongs To Those Who Prepare For It."  However, it was a commission that ultimately Hurd felt comfortable with, and he used familiar themes and situations, including many images seen in previous paintings:  water tanks, windmills, pickup trucks, as well as family and friends as models for the figures in the piece.
The Peter Hurd mural was moved in 2011.  I don't think a mural this size had ever been moved before, certainly not moved 840 miles by truck over a specially selected route in two states.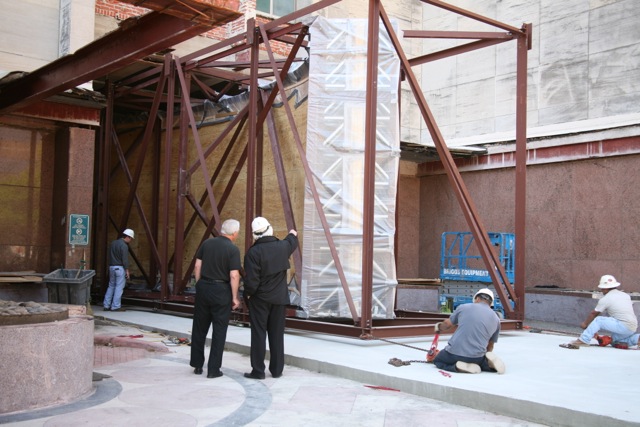 Even getting ready to move that 64,000 pound mural was quite an engineering feat.  The entire back wall was removed which only left the 3⧸4 inch plaster that the mural was painted on.  This was covered and reinforced with linen, foam and plywood.  This sandwich was then attached to a steel frame.
Workers had to tear down some of the building around the mural to do all this.  Ms. Stephens said that "for a while it hung like a curtain."  And then something bad happened.
A welder's spark got inside this tight, protective sandwich covering the mural.  Somehow that spark started smoldering in the bottom right-hand corner of the piece and charred that side of the painting.  It was a pretty large area, about 6 feet by 10 feet that was burned significantly.  The damage can be seen in the photo of the whole mural near the top of this story.  It is the black area on the right side.
But that was not the only damage to the mural.  Cigarette smoke over the years had dulled the colors, and the varnish had yellowed.  The painting looked orange.  A restoration was going to be needed.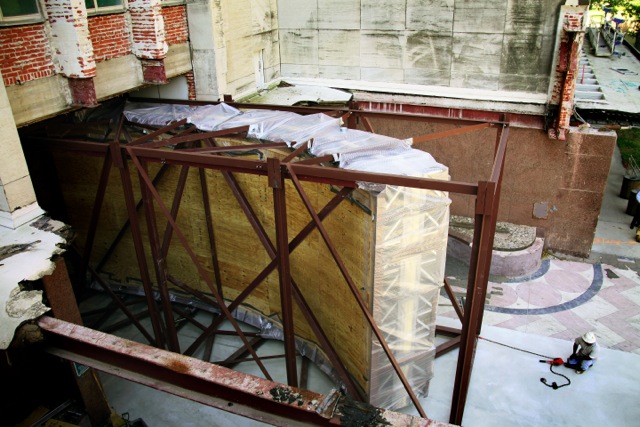 But first they had to get the mural out of the building.  This included pouring a substantial slab of concrete to help roll the painting outside.  Part of the front of the building had to be torn down to get it out.  They used little rollers and chain come-alongs to ease the mural along 1⧸2 inch at a time.  But once the crane could get hold of the frame, it took only ten minutes to load the huge mural onto a flatbed semi.
The trailer they used was pretty special.  It had been especially configured to fit under the mural support points.  It was so long that it needed a driver at the rear of the trailer to get around corners.  It also looks to be double-articulated and the load is carried very low.  And as a final point, instead of this being an 18-wheeler as is the standard for most semi trucks and trailers, this rig had 50 wheels!
Moveover, it wasn't just a truck going down the road, it was a whole caravan.  That part of the story starts tomorrow.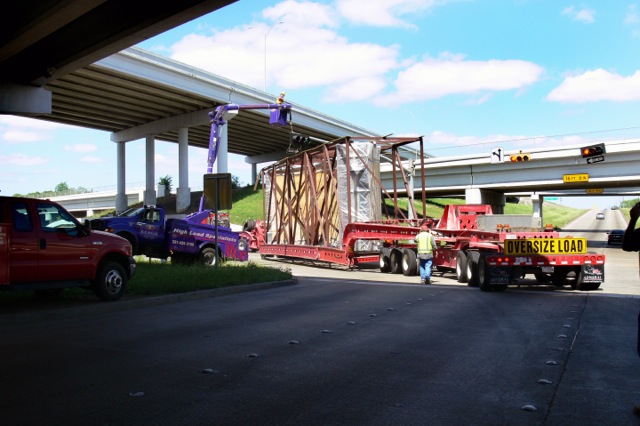 Tags:
Art
,
famous people
,
history
,
New Mexico