MAIN & CENTRAL, LOVINGTON—I gave Tabatha Lawson a questioning look.
"Red Dirt Music?"
"Yeah," she said.  "Red Dirt.  Texas Country.  That's what they play."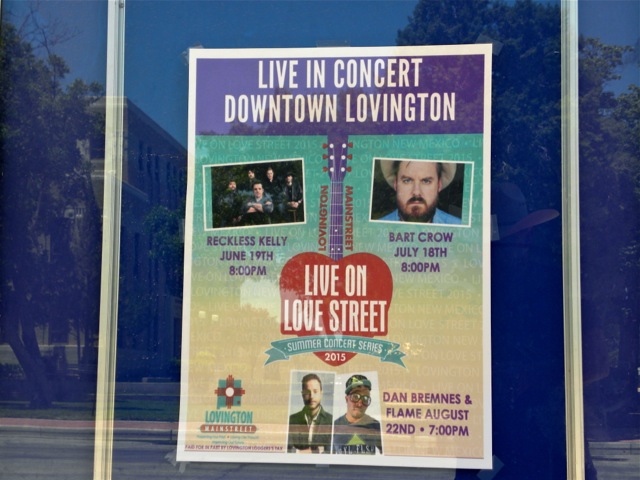 She was talking about the band Reckless Kelly.  I hated to display my ignorance, but I had not heard of Reckless Kelly, Texas Country or Red Dirt Music.  I mentioned it to her.
"They're pretty famous."
Tabatha was the second person this morning to tell me that.  The other was the barista at the Cornerstone Coffee House over on Main.  Tabatha was excited about the band being in Lovington for an outdoor concert this next Friday night.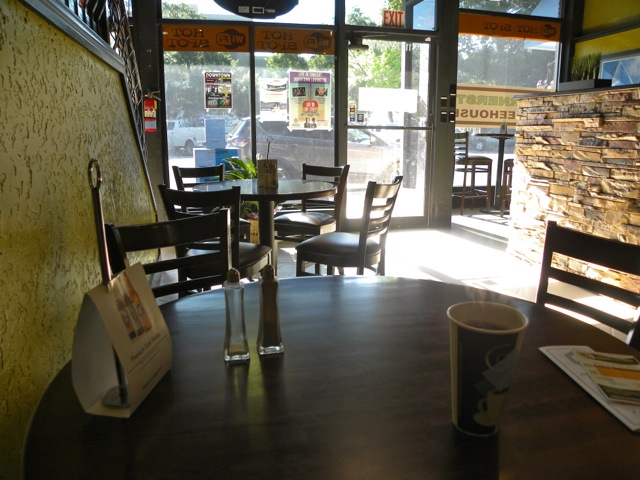 It's part of Lovington MainStreet's Annual "Smokin' on the Plaza BBQ Cook-off & Celebration" which is in downtown Lovington next weekend, June 19 and 20.  This is a big event, with 35 cooks and 25 vendors.
Tabatha has more than a casual interest in the concert and cook-off.  She is Executive Director of the Lovington MainStreet Program.  She told me that last year the BBQ attracted about 5,000 people each day.
"Here's where the beer garden will be," she said.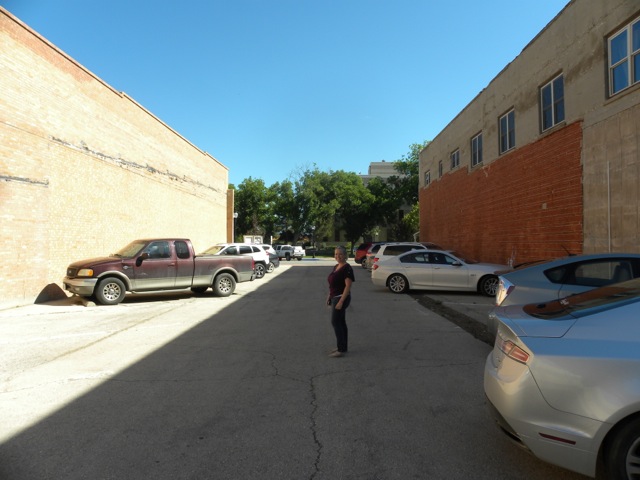 "We call the concert Live on Love Street.  Love Street is right over there," she said, pointing to the southeast corner of the plaza.  I nodded.
The man who founded this town was named Jim B. Love.  He had started a store and post office in 1908.  He had wanted to call the town "Loving" because he thought it sounded better than "Love" as a town name, but eventually decided on "Lovington."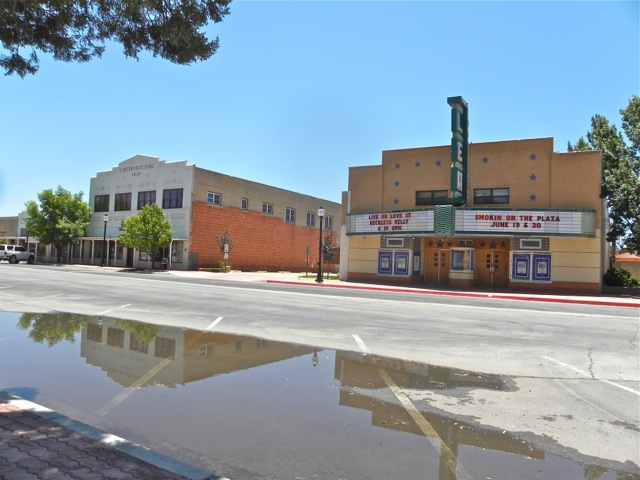 Lovington has a good-looking courthouse that dominates the Plaza.  Across the street is the Lea Theater with its very stylish marquee.  I love those marquees!  I remember when I was a boy in Illinois coming out of the theater in winter.  Snow would be floating down out of the night sky and the whole scene of falling snow coming out of the black sky into the light of the marquee was unforgettable.  It was magical.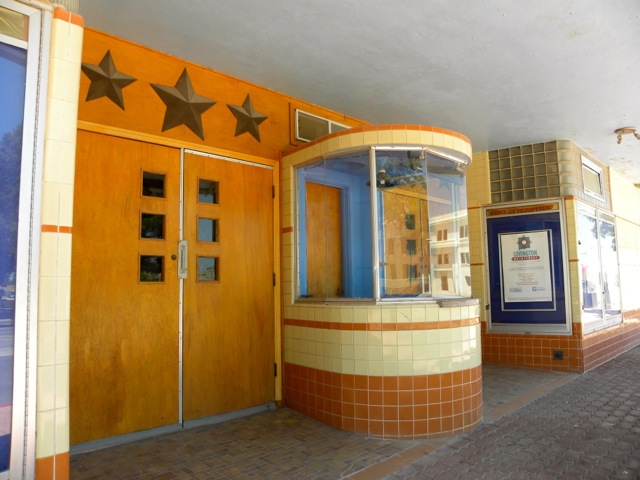 Tabatha and I were standing in front of the kiosk where the tickets were sold.  The theater was built not long after WWII, in 1948.  And now, as was the case with the theaters in Tucumcari and Clayton, they can't find movies anymore for their old projector.  The theater needed to by digitized.
"Would you like to see the inside?" she asked.  She didn't have to ask twice.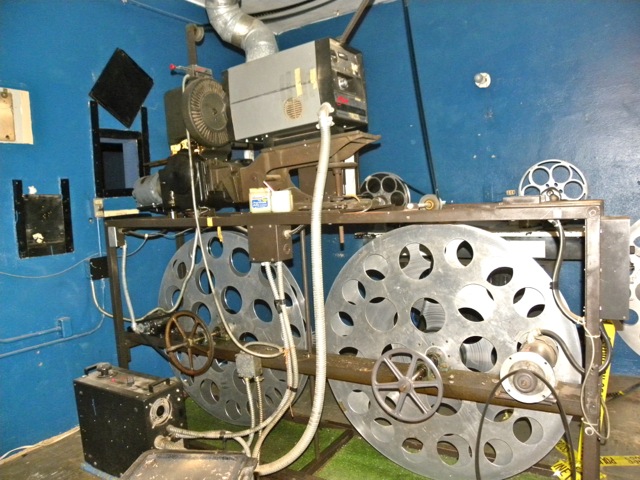 I loved touring the theater.  For one thing, they had several of the giant reels that I had heard about but had never seen.  The film from the distributor had to be spiced together on these big reels before it could be shown.
On a more somber note, a small balcony next to the projection room was for Black people.  It had no more than about a dozen seats.  It is hard to believe that all this was happening in our recent past…after WWII.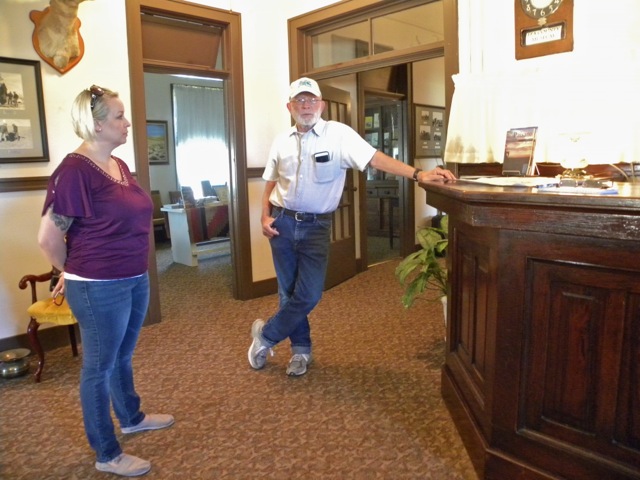 Just down the street is the Lea County Museum.  It is housed in The Commercial Hotel which was built in 1918.  Museum Director Jim Harris was there working and showed us around.  He said the hotel was built using poured concrete, not concrete blocks.
But the Commercial Hotel was modern in more ways than one.
"Five ranchers came together to build this.  People would come in here just to see the flush toilet!  They had never seen one before."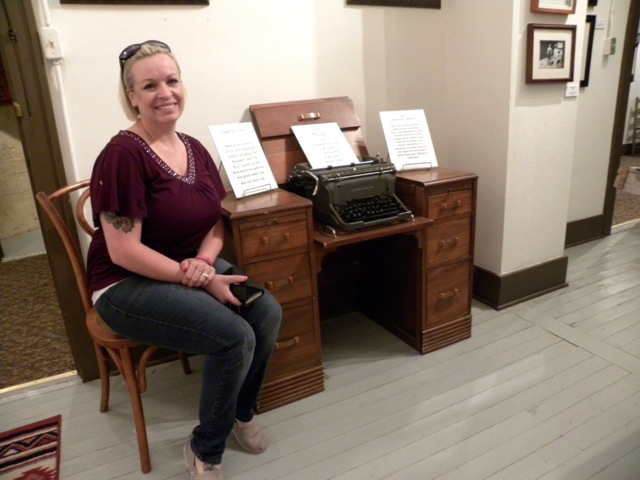 The Museum has a Max Evans room.  Jim Harris knows him quite well.  Evans, who is 91 years old, still writes.  In fact, he has three manuscripts to be published this year.  Well, I've got one word for that:  amazing.
Here's what I'm thinking:  I'm going to do my best to make it to Lovington this weekend for the BBQ and to hear that Red Dirt Music of Reckless Kelly.  Hope to see you there.
Tags:
New Mexico